Our Mission is to help families raise BUILT UP kids. A BUILT UP kid hasn't JUST met Jesus. A BUILT UP kid knows Jesus, walks with Jesus, lives Jesus, and Leaks Jesus. Trinity Kids exists to supplement families' efforts to disciple their children as followers of Christ. Trinity Kids aims to resource families as they raise up children who choose to surrender their lives under the Word & pursue God with their heads & hearts. Trinity Kids seeks to create an environment that encourages a joyful & steadfast pursuit of God.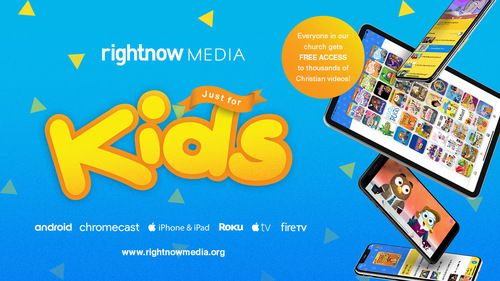 RightNow Media is a tool to serve you as you live out your faith at home, at work and in your neighborhood. RightNow Media has videos for everyone—kids, youth, parents, married couples, college students, single adults, working professionals—all aimed at helping you grow.

If you've already set up your account, login below. If not, you can request access - FREE!
BIG RAPIDS CAMPUS | 10:45am
Sign in begins at 10:35
Toddler nursery (walking through 36 months)
Preschool – Kindergarten classes
Elementary Classes (1st - 5thGrade)
Currently, Trinity Kids programming is on Pause at Newaygo Campus.
At the Big Rapids Campus, we suggest parking in the East lot.
When you enter the East doors, you will see the Trinity Kids welcome area on your right.

On your first visit to Trinity Kids, our welcome desk folk will help you get your children registered. Click on the "first time registration" button to sign up before you come, or fill out a paper form when you arrive. Our welcome folk will show you how our check-in system works and get you nametags and "pick-up cards.

Your preschool and elementary children will spend part of their time in their classrooms and come together in a larger setting for bible teaching and worship, then back to their classrooms for activities based on the bible story.
You will pick up your child in their classrooms.

We encourage you to come a little early to take a look around and show your children where you will be to help them adjust to this new environment. If you would like to visit the classroom to help your child adjust, we will give you a visitor lanyard. Your child is welcome to sit with you in service if you prefer. We have bags with coloring pages and activities available on racks outside the sanctuary.

COVID Response: Before attending class, both children and workers will have a temperature check. If anyone in your family has had a temperature in the last few days we encourage you to join online. Parents, please help us protect our volunteers by wearing a mask during drop off and pick up times. We also ask that elementary aged kids wear masks during drop off and pick up. Child sized disposable masks are available on the small white table that is normally at the entrance to the Trinity Kids area.