We would love for you to join us at the Newaygo campus!
A typical service will last about 75 minutes. We have a contemporary worship service led by our worship team. There is currently no childcare available at this time, but Pastor Patrick welcomes all the children to join their parents in the service along with his own. There are coloring pages and sermon notes for kids right when you step into the Sanctuary. You can also expect solid biblical teaching at Trinity. Be sure to bring your Bible. If you don't have one, let us know. We have one for you to keep when you arrive!

We suggest arriving 10-15 minutes before service. This allows you to grab coffee and a cookie or two (paused due to Covid-19), chat with friends (at a distance), and pick up your sermon notes. We usually have announcements at the beginning of service too… so arriving early will help you stay in the loop!
Currently, Trinity Kids programming is on Pause at Newaygo Campus. We do welcome parents to make use of our Nursery or Family Room at any point during the service. Audio from the service is streamed to each of those rooms, so that you don't have to miss a thing while tending to your children. Also, we very much welcome all the children to participate with the church family in every aspect of the service. There are coloring pages and sermon notes for kids available for your family as soon as you step into the Sanctuary. We look forward to worshipping with your whole family!
Please see the
Trinity Kids page
for Covid-19 specific changes.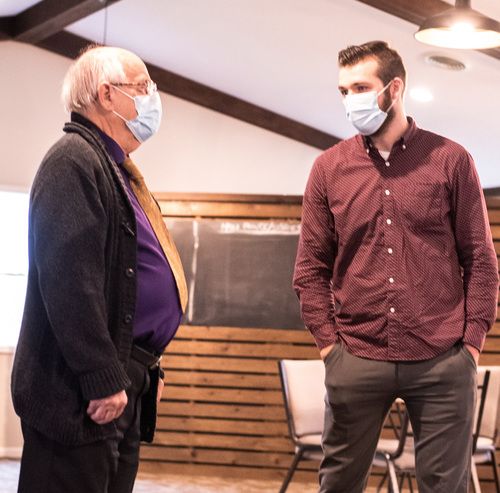 Trinity welcomes you to dress as you feel comfortable. You will typically see folks in everything from shorts and t-shirts to dresses and ties. Bottom line… we want you to feel comfortable enough to worship Jesus.